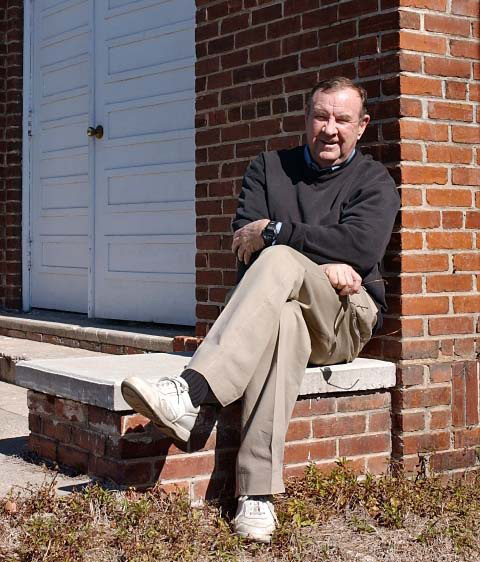 About Jim
"Jim Harrison's journey as an artist began when he first climbed onto a sign painter's scaffold on the side of McCartha's Hardware in Denmark, South Carolina. The Coca-Cola sign that he worked on that day with his mentor, J. J. Cornforth, was the first of more than 100 similar signs he painted over the next few years and shaped the future work of this South Carolinian in many ways.
An established artist and writer, Harrison has more than 100 limited edition reproductions to his name. Reminiscent of his earlier experiences as a sign painter, his work is known for chronicling earlier twentieth century rural life. His strong feelings for rural America touched on every aspect of earlier ways of living, and his subjects -- railroad stations, churches, one room schoolhouses, country stores, covered bridges, and farm buildings -- representing the spirit of an agrarian society.
"I sincerely try to put meaning to all of this in hopes it has some historical value. The subjects I'm interested in certainly need to be captured in books and on canvas. They were an important part of our past," Harrison said. "With my art what you see is what you get. I hope that my paintings need no explanation. I simply want to communicate my message to the common man on the street who claims to have no knowledge of art but does know what he likes."
Harrison credited his mother with providing the encouragement for him to develop his artistic interests beyond that of sign painting. Her investment in his first art kit led to a lifetime of work. During his years at Denmark High School, he was the "class artist" and after graduation, he began his college career at the University of South Carolina. Torn between his love of art and the enjoyment of athletics, he pursued a dual major in art and physical education. "At the time, I never really saw any future for me in fine art. In college I sensed a feeling that making a living for an artist was for the very few," said Harrison. "My interest in drawing and painting was never replaced by my newly chosen courses in education, but it seemed more practical at that time. I can't remember a day passing that I did not do a little sketching of some sort."
His first job after college marked the beginning of a successful 11-year high school coaching career at three schools. However, his love for art was never far from him. In the mid-1960s, he met Zita Mellon, an elderly art teacher in Allendale, South Carolina. Mellon offered him the encouragement to realize his potential. "I painted and I painted and I painted. And she helped me," he said. "It was the first time I'd had a taste of experiencing a little bit of the life of an artist." This experience led to one of the major decisions in his life as he turned down an offer to be an assistant coach at Furman University and returned to his hometown to pursue his career as an artist.
With no knowledge of the art market but with enthusiasm and excitement, Harrison and his wife, Margaret, headed to New York City in 1970 for the Fall Greenwich Village sidewalk art show. His only sale during the three-week show was an $85 original, and the trip cost him $800. "But I learned a lot on the sidewalks of New York," he added. Several years on the sidewalk circuit served him well as he learned his trade and the business of art.
In the early 1970s, he published his first print, "Coastal Dunes," and his work soon gained the attention of the nation's leading publisher of limited edition prints, Frame House Gallery of Louisville, Kentucky. Since the publication of his first print, many of his prints have appreciated up to 3000 percent of their original value. In 1975, he became associated with Hammer Galleries in New York and his one-man show a few years later was a complete sell out before the exhibit opened. Five other successful one-man shows followed and later shows in San Francisco proved to be equally successful.
Today, Harrison's work is distributed through Jim Harrison Prints in Denmark. His work was his life, and he surrounded himself with the things he loved. Spending much of his career as an artist in Denmark was returning to his roots, and the Jim Harrison Gallery is housed in the very building where the young artist got his start more than fifty years ago as an apprentice sign painter for J.J. Cornforth. "I have a feeling for what I paint," said Harrison. "I have a saying that art must have emotion in it. I like to paint and write about the things I know -- which are rural things. It's where I live and where I grew up."
Jim Harrison left this world in 2016 but his work lives on. Thanks to the dedication of his wife Margaret to continuing to share his art, Jim Harrison Gallery features original paintings as well as prints from Harrison's more than fifty-year career as an artist. Located on South Main Street in Denmark, the Jim Harrison Gallery is open to the public.